AUSTRALIAN OPEN BOWLS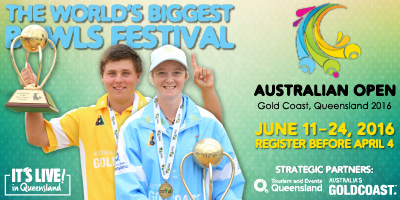 The World's Biggest Bowls Festival will again hit the sunny Gold Coast in 2016.
To build upon the success of the event, this year's event brings a number of exciting initiatives:
• The increase in prize money to AUD250,000 and restructured breakdown, to reward to a greater number of players;
• The introduction of Over 60s Pairs disciplines for both men and women as an alternative to Open Pairs;
• The introduction of up to three new host clubs, adding to the already outstanding 12 host clubs from the 2015 event;
• The introduction of a "Player of the Tournament" to reward the best and most consistent individual player across all open disciplines.
Players will also be able to enjoy all the sights and sounds that the Gold Coast has to offer, and the area truly has something for all to see and enjoy.
Full details and event countdown timer are available on the Australian Open Bowls webpage.
Stay with Us!
We are located about 1km from the Broadbeach Bowls Club, and our 1-bedroom fully self-contained apartments are well-suited to accommodating Senior guests. For accommodation over the event period, contact us at Voyager Resort or check availability and book online.